The Guardian
This Guardian review includes high praise for two U.S. Latino books:
Queer Brown Voices: Personal Narratives of Latina/o LGBT Activism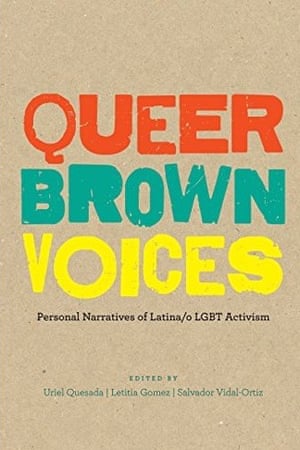 This book, a collaboration between two scholars and an activist, fills a major void in LGBT, Latino/a, and activist histories, privileging the first-person recollections of Latino and Latina leaders in LGBT movements in the United States. The editors' transparency about the processes they used to select, translate, and edit the included essays makes for interesting reading in itself.
While Queer Brown Voices is likely to become a seminal text in college and university queer studies programs, its conversational tone makes it compelling for a general reader as well.
The Weight of Feathers
If the plot of Mexican American writer Anna-Marie McLemore's debut young adult novel seems familiar, that's not accidental; her publisher, in fact, describes the book as "The Night Circus meets Romeo and Juliet." While some critics might bemoan that such a familiar story is getting recast, readers – especially young Latinos and Latinas – are more likely to feel excited finally to see characters who look like them getting written into a recognisable plot.
McLemore's prose is vivid, with carefully chosen, colourful details giving readers a clear sense of place and character. An air of mysterious fantasy enshrouds the whole book, pulling the reader through it as if in a spell. McLemore is a writer to watch.